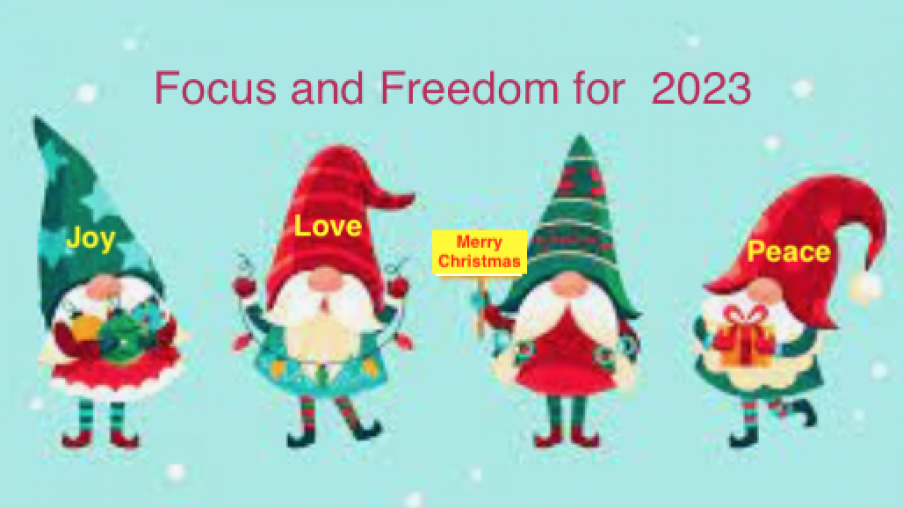 All About You in 2023.
Freedom and Focus
Christmas wishes to you all with an open heart. 
Coming to the end of another year always helps us to reflect on all that has occurred in our individual lives. It is a time to give thanks for the gift of life and the abundance of love when we stop and look. Being alive is a privilege please this Christmas give thanks to yourself for being YOU..  
What do I see for 2023… " It's all about You " in 2023. 
 Freedom, and focus… is around the corner in 2023 
Three cheers for 2023 a year to love laugh party and play… A great year in-spite of all the economic doom and gloom. I can see this next year is a year to stay focussed on what you want to do achieve, and aspire towards. While the whole world might seem caught up in dilemmas… it is important to move forward … look at making your dreams come true… stay true to what you want and where you want to go… 
The three months to celebrate in particular are March April May.. these herald the time to celebrate… spend time with friends, plan trips, visit family members and party…a good time to change jobs too if that is what you dream to do..
We will see new challenges with health issues as the medical industry is stretched to its limits.… But please keep the positive vibes high and don't buy into the news … keep focussed on bringing your dreams into reality… Stay on your track and do not be pulled into alarm or concern about the bigger picture.. stay focussed on your own reality. 
 The later half of 2023 is again fast moving and you will begin to notice that your own intuition will start to impact on your thinking as feelings and knowings start to become real. This will make you stop and think things through rather than making rash decisions.  You will want to change the way you look, create a new image and even start to do home decorating..  Everything around you will appear to be fabulous... Strong individual vibes will be high.. 
I wish everyone a safe and relaxing holiday. I would like to thank you all for the support and love that I have received throughout this last year.  
I send you love and blessing for Christmas and the New Year.. 
---