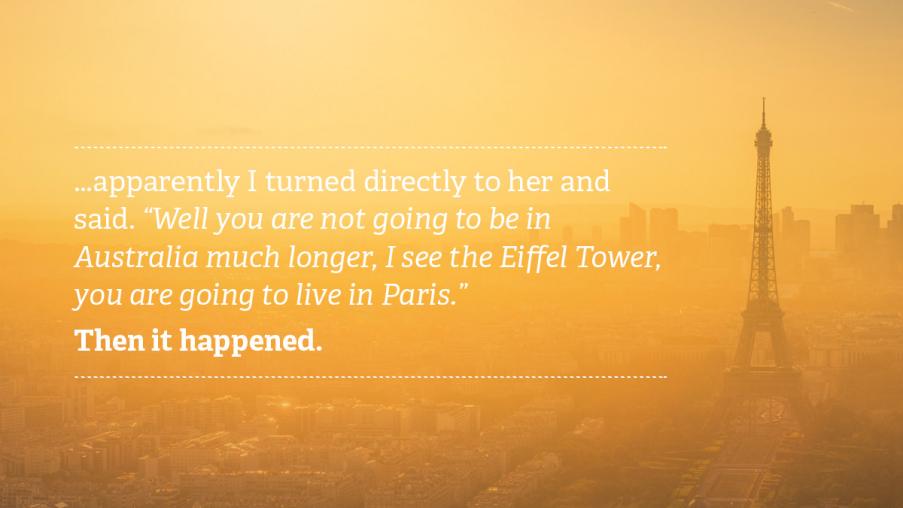 Mysteries and Predictions
Goodness it was quite scary at first when I started all this work. I was only young. About thirty something, if I remember correctly. I used to say this affirmation before I started a reading. "Please, Jesus, Mary and Joseph and all the blessed saints, make it right." Can you believe the things I have seen.
I have seen houses, new jobs, romances, health issues, moving to foreign countries, weddings, and numerous babies about to be born. You name it, I have seen it, before it even happens.
I often laugh when people text, email or call to give me feedback on what I have told them. I hold my breath when they explain. I often am bemused by the unfolding stories as I say to myself. "Did I actually say that to you?" It is unbelievable and incredible. I never cease to be amazed by this work.
One fabulous outcome was for a young lady at a house party; apparently I turned directly to her and said. "Well you are not going to be in Australia much longer, I see the Eiffel Tower you are going to live in Paris." Then it happened.
On another occasion I told one guest, "You are going to buy a huge studio and fill it with chairs and tables and make a school." At the time I remember thinking, "really, is this for real?" Then it happened, this is now a famous studio in Sydney called 'The School'.
I have also described houses that have yet to be built. Often with the information on what might go wrong, then warning the owners on what to expect. One such situation involved a granny flat that was not on the title. It became a huge problem for the purchasers; they ended up not buying the house.
The list goes on. I do not remember what I say to people as I see so many clients each week.
However the stories are lovely to hear when they are retold. I do appreciate the feedback.
One such occasion was with a young Italian lady who was not married and thought she had passed the child rearing option. Apparently I told her she would marry a neighbour and have a little girl. When she did have a daughter she visited me to introduce the new baby, the delight of her life. I was stunned too. What a wonderful outcome.
There is a place for predictive work, however I do caution people that you can't make life-changing decisions with the information. All you can use it for is confidence that life will deliver what you desire.
---