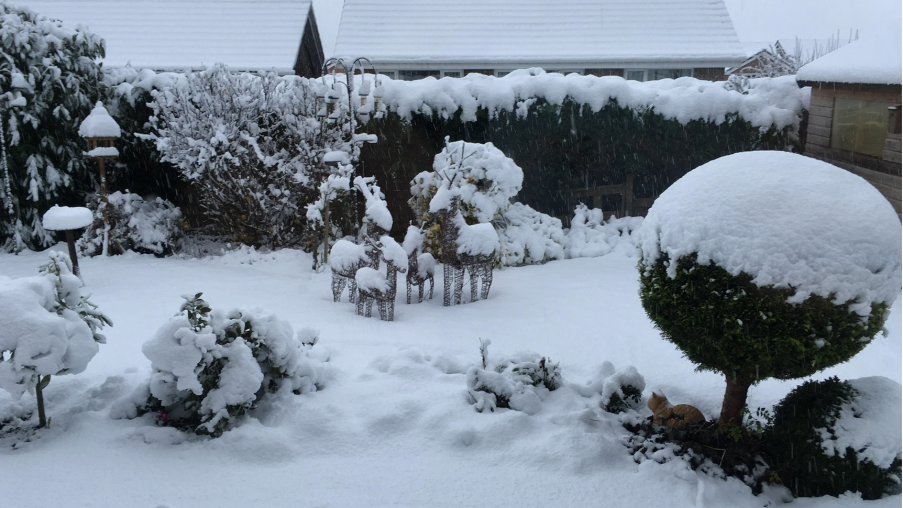 Reindeer's are ready for Christmas
The real Christmas card from my brother's garden in South Wales.
Well, what a surprise an early snow-storm in UK. My brother sent me this photo yesterday. It must be ten years since my last white Christmas, but this picture is delightful. I did ask him where the snowman was?
I remember as a kid making snowmen with my brother, we would roll the snow all around the garden to make a huge snowman, then use black coal for eyes, a carrot for a nose and somehow we found a pipe for the mouth, or maybe it was a plain old stick. I do remember my Dad sacrificing a hat and scarf for a couple of days too.  It always melted into a grey slushy mess which would be thrown at the kids next door! Hilarious times, long time ago!   
My Christmas gift via my website is a discounted voucher for a Telephone or Skype or Face-time psychic reading.
I connect with people over the phone, from all parts of the globe, the information is recorded then sent to your mobile or email address.  You can then, listen again at your leisure.
The fee for the session is normally  $150 for 30 mins. 
My Gift to you is a discounted voucher for $100.  
The link to order a voucher is : Christmas Gift Vouchers.                                   

You may like to purchase the voucher for yourself or family members as a gift for Christmas. The voucher is redeemable after Christmas and is valid for 12 months.  
I look forward to speaking with you in the new year. 
Have a fabulous Christmas and a brilliant 2018. 

---